Over 200 Years of History and Grace
The Gratz Park Historic District occupies a tract of land that was established in 1781 outside of the original boundaries of Lexington when the town plat was prepared that year by order of the Virginia Assembly. In 1793 Transylvania Seminary purchased the land as the site for its Lexington campus. Private residences began being built around the green space in the 1800s.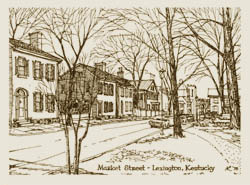 Gratz Park is named for early Lexington businessman Benjamin Gratz, who in 1824 bought the home on the corner of Mill and New streets. In the first years of the twentieth century, the Transylvania Board of Trustees devised a plan to subdivi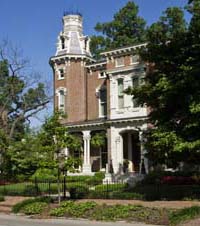 de the park for homes. In 1915, Anderson Gratz offered to pay $21,000 to Transylvania for the northern portion of the park if the city of Lexington would also pay $10,000 to the college.
After a fairly lengthy period of negotiation and indecision, the city agreed to follow this plan in 1917. Under the agreement, the city accepted a generous donation from Anderson Gratz with his restriction that the land of Gratz Park could never have buildings placed within the green space. The park thus remains largely as it has been for over a century.

As a public park owned by the Lexington-Fayette Urban County Government and as a part of its park system, Gratz Park is maintained by the LFUCG Division of Parks and Recreation.